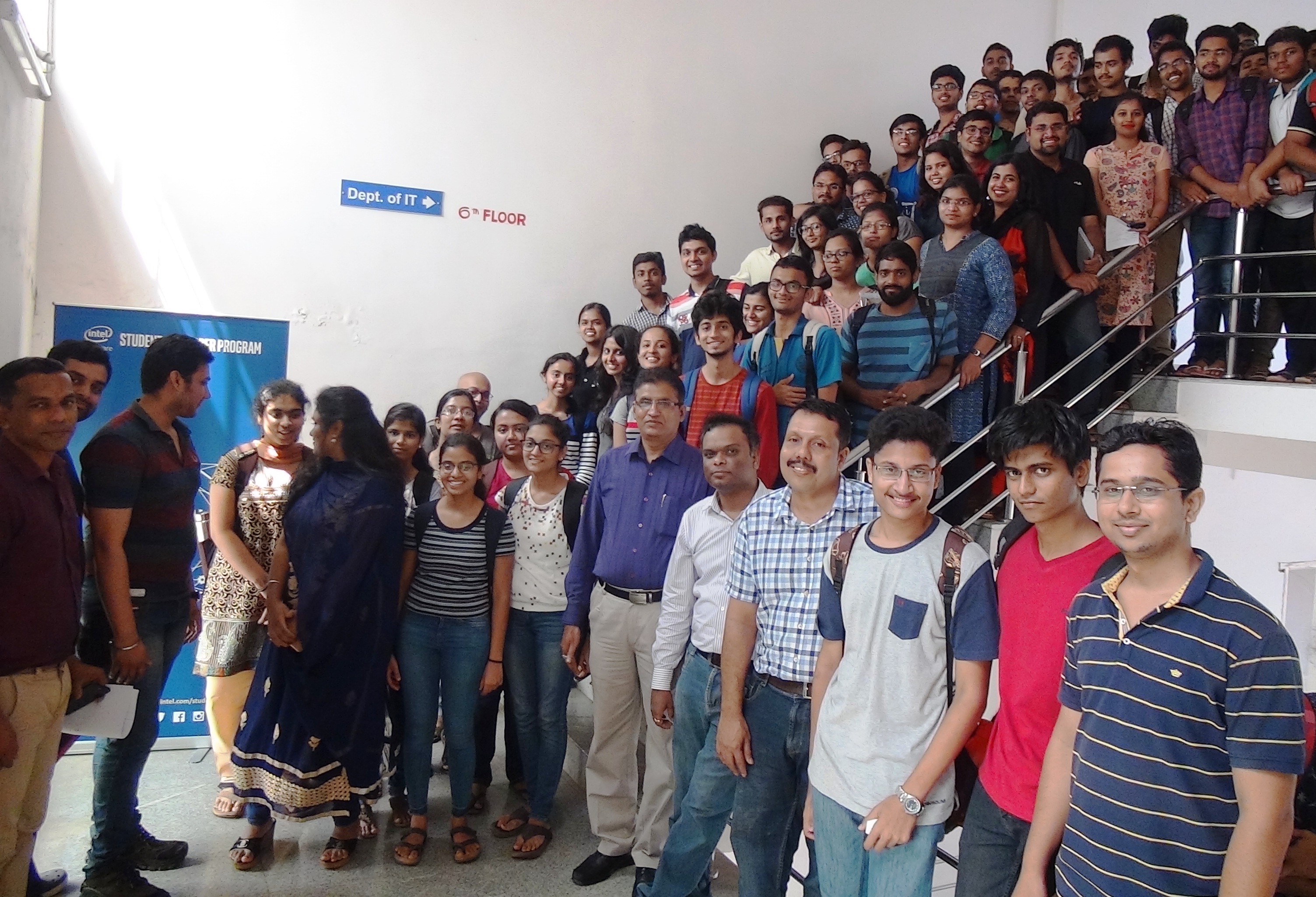 B.Tech (Information Technology)
The B.Tech programme in Information Technology was the first program to be offered by the Department when it was established in the year 2000. It has since grown from strength to strength and is currently one of the top and most sought after disciplines at NITK Surathkal. The course currently has an average intake of 110 students per year. The programme is innovatively designed to cater to global and industry demands and offers a balanced coverage of foundation concepts and application oriented courses. Our students have consistently achieved excellent placements of nearly 100% each year and several have been accepted/are pursuing post graduate and doctoral studies at reputed National and International Universities.
Programme Educational Objectives
---
To provide students with a strong and sustainable foundation in mathematics, science and engineering fundamentals to enable them to devise competent solutions to complex hardware/software problems and also to pursue advanced research.

To deliver a comprehensive education spanning the breadth of Information Technology and related engineering fields to ensure that graduates have the core competency to be successful in Industry and/or excel in higher studies.

To train students to work as part of teams on multidisciplinary projects and in diverse professional environments to comprehend, analyze, design and create innovative solutions for real life problems, in alignment with society, global economy and emerging trends.

To create a learning environment which emphasizes the importance of professionalism, ethics & exceptional communication skills and also infuses a curious bent of mind in students to inspire a quest for life-long learning.
Programme Outcomes
---
Ability to apply knowledge of mathematics, probability, statistics, basic science and computer science/electronics/electrical engineering fundamentals in devising competent solutions for building complex IT systems;

Ability to design and conduct experiments, analyze and interpret resulting data to arrive meaningful conclusions and provide recommendation for real life problems.

Ability to undertake problem identification, formulation and solution for real-life IT problems to meet desired needs within realistic constraints such as economic, environmental, social, health and safety and sustainability;

Ability to use modern tools and techniques for design, modeling and simulation of complex IT problems.

Ability to apply engineering and management knowledge/techniques to estimate time and resources needed to complete a IT project and a capacity to analyze and interpret a developed system's future requirements;

Ability to function effectively as an individual and in multi-disciplinary and multi-cultural teams, with the capacity to be a leader or manager as well as an effective team member;

Understanding of the social, cultural, global and environmental responsibilities of the professional IT engineer, and the need for sustainable development based on realistic considerations;

Innate understanding of professional and ethical responsibilities and a genuine commitment to them;

Ability to communicate effectively, not only with fellow engineers but also with the community at large;

Aptitude for self learning and an innate mind-set towards life-long learning.

Ability to pursue professional development by pursuing postgraduate studies or face competitive examinations that offer challenging and rewarding  careers in computing.
Programme Specific Objectives
---
PSO1: Demonstrate the use of core Information Technology and its applications in the fields of Artificial Intelligence, Cyber-physical Systems and Data Science.
PSO2: Inculcate the ability to design effective IT solutions to complex problems through the use of project based and experiential learning methodologies.