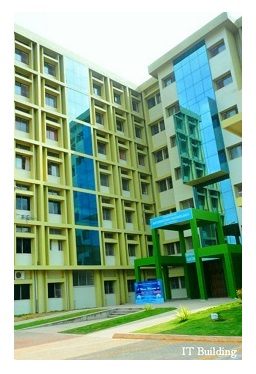 Vision
  

To achieve excellence in education so as to enable students to establish themselves as world-class professionals and empower them with the proficiency & knowledge required to excel in the dynamic field of Information Technology.
Mission
  To create and disseminate knowledge through research, teaching & learning; and to enhance society in meaningful and sustainable ways.
  To serve our students by inculcating in them problem solving, leadership, teamwork skills and the value of commitment to quality, ethical behavior & respect for others.
About the Department  [Click here for the Department's Annual Brochure]
Established in the year 2000, the Department of Information Technology is the youngest among the 14 departments at NITK Surathkal. Since then, it has grown to be a center for excellence, innovation and research with dedicated faculty & staff, highly motivated students, state-of-the-art facilities and an innovative teaching-learning environment. The department offers two undergraduate programmes - B.Tech.(IT) and B.Tech.(Artificial Intelligence) and one post-graduate programme M.Tech.(IT), M.Tech. in IT (by Research) and Ph.D. programmes are also offered by the department.
The department was accredited by National Board of Accreditation (NBA) for 3 years in 2008 and for 6+1 years w.e.f. July 1st, 2014 (further extended for 1 year up to Jun 2022). It has demonstrated its significant potential for excellent research through high-quality scholarly publications, research projects, patents and other initiatives. Several research & consultancy projects are currently underway as part of various grants/MoUs with reputed industry and academic organizations.
Our students have consistently achieved excellent placements year after year and have demonstrated a high level of success at pursuing post-graduate and doctoral studies at leading universities world-wide (as per QS World University Rankings). Many NITK-IT graduates are currently at universities of repute like Massachusetts Institute of Technology, Carnegie Mellon University, Yale, Cornell, Columbia, Duke University, Purdue, Georgia Tech, and in the IITs and IIMs.