Ranjit P Kolkar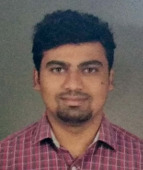 Supervisor(s):
Area of Interest:
Affective Computing, Internet of Things
List of Publications:
Kolkar R., Geetha V. (2021) Issues and Challenges in Various Sensor-Based Modalities in Human Activity Recognition System. In: Kumar R., Dohare R.K., Dubey H., Singh V.P. (eds) Applications of Advanced Computing in Systems. Algorithms for Intelligent Systems. Springer, Singapore.  
Kolkar Ranjit, and V. Geetha. "Human Activity Recognition in Smart Home using Deep Learning Techniques." In 2021 13th International Conference on Information & Communication Technology and System (ICTS), pp. 230-234. IEEE, 2021.  
Karthik, K., Gokul S. Krishnan, Shashank Shetty, Sanjay S. Bankapur, Ranjit P. Kolkar, T. S. Ashwin, and Manjunath K. Vanahalli. "Analysis and Prediction of Fantasy Cricket Contest Winners Using Machine Learning Techniques." In Evolution in Computational Intelligence, pp. 443-453. Springer, Singapore, 2021.