Trupti Chandak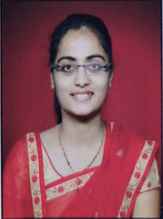 Length of Professional Experience:
Academic Background:
M.tech in 

Computer Science and Engineering - Information Security 

from NIT-Bhopal, Information Security (2019)
B.E in 

Information Technology 

from MIT-Pune, Information Technology (2016)
Achievements:
Accepted and Published paper in International Journal Elsevier, Expert Systems with Applications.
Accepted and Presented paper at the IEEE Bombay Section Signature Conference 2019.
Achieved 1st rank in MTech (CSE-Information Security) in 2017-2019.
Achieved 1st rank in B.E (Information Technology) in 2015-2016.
Areas of Interest:
Data Structures
Networking
Operating System
DBMS
Machine Learning
Publications:
An analysis of "A feature reduced intrusion detection system using ANN classifier" by Akashdeep et al. expert systems with applications - Experts Systems with Applications - 2017
Effective Analysis of Feature Selection Algorithms for Network based Intrusion Detection System - IEEE Bombay Section Signature Conference (IBSSC) - 2019