Thanmayee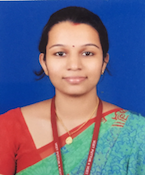 Length of Professional Experience:
1 Year at NITK (Total 7.5 Years)
Academic Background:
MTech in Computer Science and Engineering from NMAMIT, Nitte (2016)
B.E in Information Science and Engineering from Srinivas Institute of Technology, Valachil (2010)
Achievements:
Life Member of Indian Society for Technical Education (LM 117072)
Completed NPTEL certification course on Introduction to IoT with 82% score being among top 5% toppers list.
Judged National Level Technical Paper Presentation held at Srinivas Institute of Technology, Valachil
Guided four major projects : Traffic Perception using IR sensors, Vmail, Comparative study of Kmeans Clustering in Apache Spark and Hadoop (won First prize and best project award at State Level Project Competition-2017), Iterative Mapreduce for the Kmeans and Pagerank algorithm. Guided 3 mini projects : Android applications and website building.
Areas of Interest:
Big Data
IoT
Machine Learning
Parallel Computing
Distributed Computing
Publications:
Revamped Market Basket Analysis using In-Memory Computation Framework - IEEE 11th International Conference on Intelligent Systems and Control - 2017